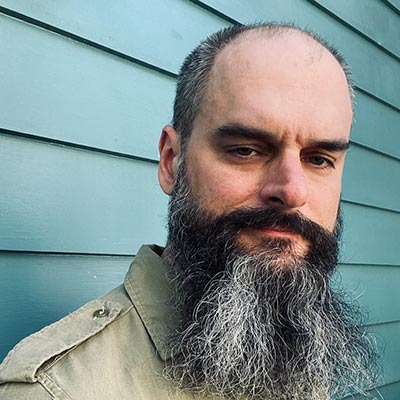 Paul L. Robertson, PhD
Instructor
(804) 827-8334
Hibbs Hall, 900 Park Ave., room 324E
Education
PhD in Media, Art and Text, Virginia Commonwealth University
MA in English, Appalachian State University
MA in Appalachian Studies, Appalachian State University
BA in English, Virginia Commonwealth University
Research Interests
Paul Robertson's research interests are in Southern/Appalachian representation across literature and mass media. His focus is the Grit Lit genre and the late 20th century subcultural landscape in which it proliferated. Paul Robertson also works with Appalachian folklore, in primary-source and archival preservation contexts, and with comic arts publications. Some topics that frequently appear in his research and teaching are late Cold War-era dystopian imaginings, eschatological frameworks, constructions of American whiteness, ethno-regional identity, and documentary filmmaking in Appalachia. He teaches an array of courses in American literature, from surveys to upper-level courses in Southern and Appalachian regional literatures. Paul Robertson's classes tend to have a strong interdisciplinary orientation, with an emphasis on historical and cultural contexts.
Select Publications
Robertson, Paul Lester. "Indians of the Apocalypse: Native Appropriations and Representations in 1980s Dystopic Films and Comic Books." The Journal of Popular Culture 51.1 (February 2018): 68–90.
Robertson, Paul. "Ballads and Bytes: The Digitally Reproduced Folksong Collections of Dr. I. G. Greer and Dr. W. Amos Abrams." North Carolina Folklore Journal 55.2 (Fall-Winter 2008): 54–64.
Robertson, Paul. "Manuscripts, Mountain Music, and Megabytes: 'So Mote It Ever Be: The Folksong Heritage of North Carolina's Northern Blue Ridge Mountains.'" Journal for the Society of North Carolina Archivists 6.1 (Summer 2008): 26–40.
Casto, Erin, Sara E. Harris, Eddie Huffman, Melanie Keyes, Sharon Price, and Paul Robertson. "Revisionist with a Cause: Interview with Wilma Dunaway." Appalachian Journal: A Regional Studies Review 31.2 (Winter 2004): 166–191.
Affiliations
Courses
ENGL 206: American Literature II
ENGL 215: Reading Literature
ENGL 380: Southern Literature
ENGL 381: Multiethnic Literature
ENGL 391: Topics: Appalachian Women Writers
Links