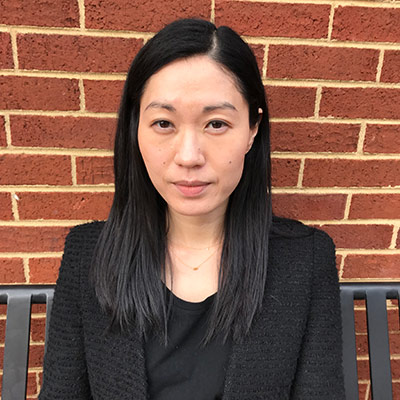 Jennifer Rhee, PhD
Associate Professor
Director, MA in English
(804) 827-8332
Hibbs Hall, 900 Park Ave., room 332
20th/21st Century
Film, New Media, Theory
Education
PhD, Program in Literature, Duke University
BA, English, Princeton University
Research Interests
In her research Rhee analyzes artificial intelligence and robotics technologies in relation to race, gender, and labor. More specifically, she examines the different visions of humanness that shape AI technologies and bring these technologies into conversation with theorizations of AI in speculative fiction and art. Her scholarship and teaching are in the areas of speculative fiction studies, literature and science, feminist science and technology studies, critical AI studies, and ecocritical media studies.
Rhee regularly teaches courses on speculative fiction and contemporary American literature, as well as ENGL 301 (Introduction to the English Major). She welcomes working with graduate students interested in studying speculative fiction, exploring connections between literary works and science and technology, and analyzing AI technologies using humanities methods and perspectives.
Select Publications
The Triangle Collective, editors. The Palgrave Handbook of Twentieth- and Twenty-First Century Literature and Science. Palgrave Press, 2020.
The Robotic Imaginary: The Human and the Price of Dehumanized Labor. University of Minnesota Press, 2018.
(forthcoming) "From ELIZA to Alexa: Automated Care Labor and the Otherwise of Radical Care," Feminist AI: Critical Perspectives on Algorithms, Data and Intelligent Machines. Edited by Jude Browne, Stephen Cave, Eleanor Drage, Kerry Mackereth, and Youngcho Lee. Oxford University Press, 2022
"'A really weird and disturbing erasure of history': The Human, Futurity, and Facial Recognition Technology." My Computer Was a Computer. Edited by David Cecchetto. Noxious Sector Press, 2022, 33–52.
"Finance Speculation, Indeterminacy, and Unforeclosed Futures in James Tiptree, Jr.'s 'The Girl Who Was Plugged In.'" Science Fiction Studies, vol. 46, no. 3, 2019, pp. 449–469.
Courses
ENGL 250: Reading Film
ENGL 301: Introduction to the English Major
ENGL 378: Twentieth-Century American Novels and Narratives
ENGL 501: Introduction to Graduate Studies
Awards
Residential Fellowship, Humanities Research Center, Virginia Commonwealth University, 2022–23
Fellowship, American Council of Learned Societies, 2019–20
The First Book Institute, Center for American Literary Studies, Pennsylvania State University, 2015
Postdoctoral Fellowship, Fox Center for Humanistic Inquiry, Emory University, 2013–14
Postdoctoral Fellowship, Institute for the Arts and Humanities, Pennsylvania State University, 2011–12