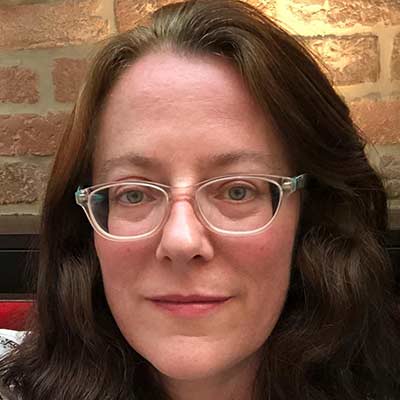 Rivka Swenson, PhD
Associate Professor
(804) 827-8416
Hibbs Hall, 900 Park Ave., room 416
18th Century
Gothic
Education
PhD in English Language and Literature, University of Virginia 2008
MA in English Language and Literature, University of Virginia 2008
MFA in Poetry, Virginia Commonwealth University 1999
BA in English (Psychology minor), Virginia Polytechnic Institute and State University 1995
Research Interests
Eighteenth-Century British Literature and Culture
Robinsonades
The Gothic
Popular Culture
Material Culture
Feminism
Select Publications
"'mushrooms, capers, and other sorts of pickles': Remaking the Robinsonade in Peter Longueville's The Hermit (1727)." Rewriting Crusoe: The Robinsonade across Languages, Cultures, and Media. Ed. Jakub Lipski. Lewisburg, PA: Bucknell UP, 2020. 9–22. 2020.
"The Crusoeiana: Material Crusoe." Adapting the Eighteenth Century: Pedagogies and Practices. Eds. Sharon Harrow and Kirsten Saxton. U of Rochester P, 2020. 213–233. 2020.
"Robinson Crusoe and the Form of the New Novel." The Cambridge Companion to Robinson Crusoe. Ed. John Richetti. Cambridge: Cambridge UP, 2018. 16–31. 2018.
"Secret History and the It-Narrative." The Secret History in Literature, 1660–1820. Eds. Rebecca Bullard and Rachel Carnell. Cambridge: Cambridge UP, 2017. 117–133. 2017.
Essential Scots and the Idea of Unionism in Anglo-Scottish Literature, 1603–1832. Lewisburg, PA: Bucknell UP. 2016.
Affiliations
Modern Language Association
American Society for Eighteenth-Century Studies
Defoe Society
The Johnsonians
Eighteenth-Century Scottish Studies Society
Courses
The Gothic
Fan Fiction: Revising H.P. Lovecraft
Popular Culture Studies: Robinson Crusoe
18th-Century British Novel
Reading Literature: Metafiction
Awards
CHS Excellence in Junior Scholarship Award, College of Humanities and Sciences, VCU.
Lewis Walpole Library, Yale/ASECS Fellow, short-term fellowship
Robert W. Woodruff Library, Emory, Manuscripts and Rare Books Library, short-term fellowship
Chawton House Library, University of Southampton, short-term fellowship
Folger Shakespeare Library, short-term fellowship