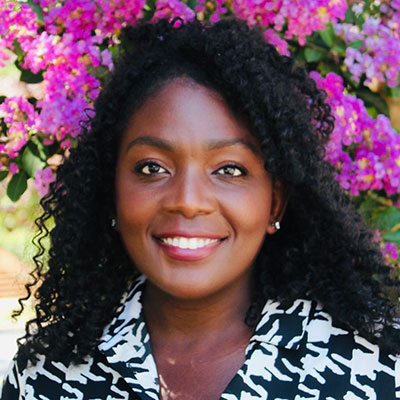 Shermaine M. Jones, PhD
Assistant Professor
(804) 827-8324
Hibbs Hall, 900 Park Ave., room 324A
Literatures of Diversity
Education
PhD in English Language and Literature, University of Virginia, 2015
BA in African and African American Studies, Dartmouth College, 2006
BA in Psychological and Brain Sciences, Dartmouth College, 2006
Research Interests
African American Literature
Black Women's Literature of the Diaspora
Black Feminist Theory
Affect Studies
Select Publications
"'Unbounded Grief': Black Maternal Sorrow and the Literature of Slavery." Gender in American Literature and Culture, edited by Jean M. Lutes and Jennifer Travis, Cambridge University Press, Cambridge, 2021, pp. 82–95. Cambridge Themes in American Literature and Culture.
"'Let Her Be Born & Handled Warmly': Reflections on My Pregnancy Journey Preparing to Mother a Black Daughter." CLA Journal, vol. 62, no. 1, 2019, pp. 86–95.
"I Can't Breathe!: Affective Asphyxia in Claudia Rankine's Citizen: An American Lyric." South Journal Vol. L Fall (2017): 37–45.
"Presenting Our Bodies, Laying Our Case: The Political Efficacy of Grief and Rage During The Civil Rights Movement in Alice Walker's Meridian." Southern Quarterly Journal 52. 1 Fall (2014):179–196.
Courses
ENGL 620: Intertextuality: Black Feelings
ENGL 499: On Blackness & Feeling
ENGL 355: Black Women Writers of the Diaspora
ENGL 366: Bearing Witness: Race, Identity, & African American Writing
ENGL 379: African American Literature from the Beginnings Through the Harlem Renaissance
Links