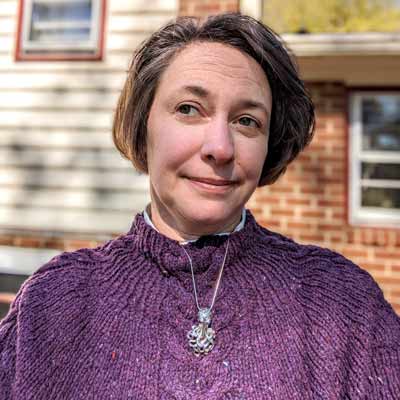 Katherine S. Nash, PhD
Associate Professor
(804) 827-8316
Hibbs Hall, 900 Park Ave., room 316
20th/21st Century
Film, New Media, Theory
Education
PhD, English Language and Literature, University of Virginia (2006)
MA, English Language and Literature, University of Virginia (2003)
BA, English Language and Literature, Earlham College (1995)
Research Interests
Form, theory, and history of narrative
Victorian and Modernist British literature
Narrative ethics
Inclusive pedagogies, curricula, and program assessments
Undergraduates' wellness
Select Publications
Feminist Narrative Ethics: Tacit Persuasion in Modernist Form (Columbus: The Ohio State University Press, 2014).
"Mid-Pandemic Pedagogy: A Candid Dialogue between Student and Literature Professor." Co-authored with VCU sophomore English major Emma Carlson. Literature 2 (2022): 62-76.
"When a Plan Comes Together: An Analysis of Assessment Plans from Accredited U.S. Journalism and Mass Communication Programs." Co-authored with Timothy Bajkiewicz. Journalism and Mass Communication Educator. Under peer review.
"Overt and Covert Narrative Structure: A Reconsideration of Jane Eyre," in Twenty-First-Century Perspectives on Victorian Literature, ed. Laurence W. Mazzeno (Lanham, MD: Rowman & Littlefield, 2014), 75–85.
"Narrative Structure," in The Encyclopedia of the Novel, ed. Peter Melville Logan, Olakunle George, Susan Hegeman, and Efraín Kristal (Chichester, West Sussex, UK: Wiley-Blackwell, 2011), 545–49.
Affiliations
Courses
ENGL 336: Nineteenth-Century Novels
ENGL 342: The Modern Novel
ENGL 447: Form and Theory of Fiction
ENGL 301: Introduction to the English Major
ENGL 480/ENGL 499: Virginia Woolf
Awards
Profile in Faculty Teaching Excellence, filmed by the Center for Teaching and Learning Excellence (2018)
VCU Humanities Research Center Residential Fellow (2016)
VCU Humanities Research Center Travel Grants (2017, 2016, 2014)
NEH Seminar, "Narrative Theory: Rhetoric and Ethics in Fiction and Nonfiction" (2008)