Friday feature: Nicole Milanovic
Feb. 18, 2022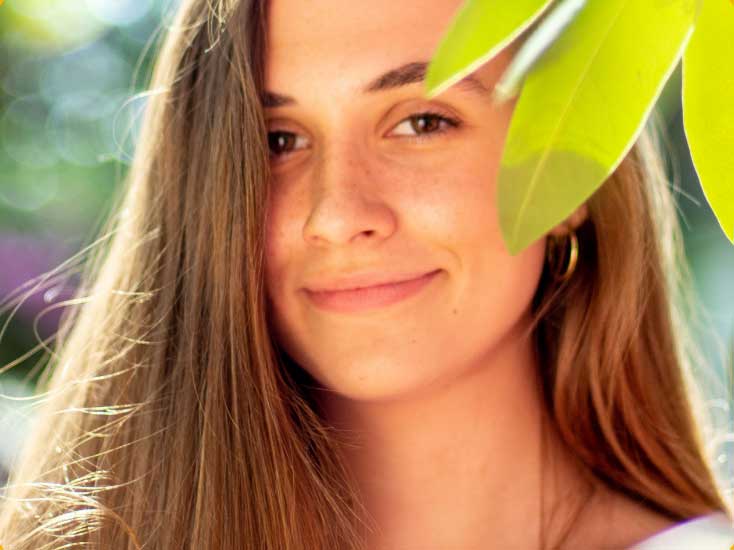 Nicole is a volunteer copy editor with Blackbird: an online journal of literature and the arts and is a part of the club tennis team. During her time at VCU, Nicole has interned with two online journals: Blackbird and Plain China.
When did you know you wanted to be an English major?
Prior to college, English had always been my strong suit in school. In high school, I joined the newspaper team and became an editor. From then on, I knew that I had a passion for writing, storytelling, and copy editing. During my time with the newspaper, I gained experience using PhotoShop and learned to design a print newspaper. As an incoming freshman at VCU, I actually entered as an International Studies major. Examining global issues and developing a deeper understanding of the world and its diverse community has always been extremely important to me. Having immigrant parents and being surrounded by my mom's work at the International Rescue Committee (IRC), I have always had genuine empathy with different people and cultures around the world. At VCU, I wanted to expand my knowledge and further my passion for diversity and equality through my major, and I discovered that I could do this—and more—through my writing as an English major. Finally, after doing some more research about the English major, I discovered the many possibilities, not only within the major but also in terms of career opportunities.

What were your favorite English classes at VCU?
This semester, I'm taking my Senior Seminar on The New Yorker where we examine the stories and how the magazine has evolved. Since my dream is to work with a magazine or journal similar to The New Yorker, I was excited to join this course. One of my favorite professors, Bryant Mangum, has made it both fun and informative. We are required to purchase a subscription with The New Yorker which is great because I was subscribed in the past but I never took advantage of it until now. Another course that I thoroughly enjoyed was Introduction to Modern Rhetoric where we learned the art of persuasive writing through different rhetorical appeals by examining real-life speeches and scenarios. During the semester, professor David Coogan compiled a YouTube playlist for us with a variety of videos to study and analyze. I had no idea what modern rhetoric was before I took this class so I was a little bit intimidated going into it and never expected it to be one of my favorites; however, the skills that I learned in this class will always stick with me. One more course that will always stand out to me is Speculative Fiction with Professor Michael Hall. I had a wonderful experience in his class—he is hilarious. We read a lot of science-fiction short stories that were incredibly interesting to read and write about.
You were featured on our social media with a piece you wrote, "Gun Laws to Prevent Tragedy." Did you write this piece for a class? What did you learn about gun law legislation when writing this piece?
I wrote this piece for my Intro to Modern Rhetoric class. It was one out of three rhetorical analysis essays we had to write throughout the semester. Getting deeper into this piece was interesting: the topic of gun law legislation is both heavy and important. Therefore, when choosing which videos to analyze, I wanted to pick ones that could spread a message and hopefully create a change in our society. This is the first time that I have submitted my writing for publication, so it has definitely inspired me to continue to do so. I hope that this piece serves as a read that is both enjoyable and informative.
Who have been your favorite professors in your major?
I have honestly had such a wonderful experience with every single one of my English professors. A few professors will always stick with me and I am grateful to have been taught by them. During my sophomore year, I took Persuasive Writing with Paul Robertson. Each assignment was entertaining and encouraged me to write. I appreciated the feedback he gave us with every assignment because it really helped me improve my writing and I certainly saw a positive difference in the quality of my writing at the end of the semester versus the beginning. Dr. Robertson is such a kind and witty person and always told the best stories during class.
During my junior and senior years, I met two professors that turned out to be some of my biggest supporters. David Coogan, my Modern Rhetoric Professor, creates an environment where students can feel comfortable speaking in class. It can be intimidating and I am definitely guilty of struggling with it; however, I was surprised with how easy it was for me in his class. He makes the coursework fun, gives excellent feedback, and loves connecting with his students. A professor who has a similar teaching style is Bryant Mangum, who connects with students and gives his all when it comes to our work or any questions and concerns we have. He also picks the best stories for us to read and always has the best stories to tell. These professors go above and beyond and their hard work, passion, and kindness truly mean a lot!
What would be your dream course for the English major?
I have always found myself searching for courses related to journalism and copy editing. The two internship courses that I was involved in, Blackbird and Plain China, gave me a wonderful experience in journalism, copy-editing, and more. I learned to use different copy-editing tools like The Chicago Manual of Style and Merriam Webster which broadened my skill set. With Plain China, I had some experience working as a social media manager to help spread the word about our journal on various social media platforms. These internships have inspired me to continue this kind of work; therefore, I am currently applying to graduate schools for journalism and/or publishing and editing.
What do you like to read outside of class?
Right now I am reading a novel called Outline by Rachel Cusk. This novel is fiction and it's about a woman writer traveling to Greece who meets a variety of people along the way. Some of the themes in the novel include loss, the nature of family, the familiarity of intimacy, and more about writing, talking, and self-expression. I also enjoy reading graphic novels. I took a course called Reading Graphic Novels with John Brinegar and it was one of my favorite courses. A few of my favorite graphic novels are Persepolis by Marjane Sartapi (this one has to be my absolute favorite), American Born Chinese by Gene Luen Yang, and Paper Girls by Cliff Chiang. Overall, I enjoy a variety of genres and my favorite author is James Baldwin. Last semester, in another class taught by Michael Hall, African American Literature: Realism to the Present, we read Giovanni's Room by James Baldwin.