Introducing Raegan Ballard, Black History in the Making Award recipient for 2022
Feb. 24, 2022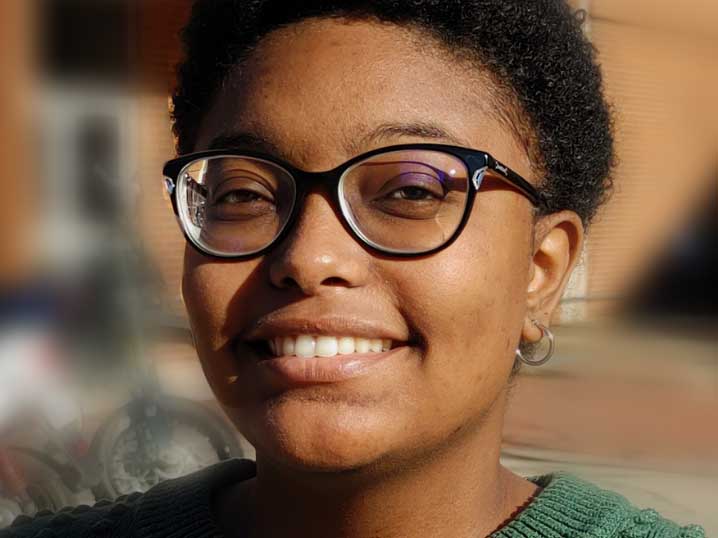 Raegan Ballard is a senior English major graduating in the spring of 2022. She is minoring in professional writing and editing and completing her Distinguished English Major research presentation this semester. Raegan was previously a server and bartender at a dine-in movie theater, but she currently works at the VCU Writing Center which she considers to be a much more satisfying job that aligns more with her future goals of entering the publishing field. Raegan is also the English department's recipient of the 2022 Black History in the Making Award.
Congratulations, Raegan, on receiving the Black History in the Making Award this year! What does this award mean to you?
This award to me is truly an honor. It is amazing to think that the professors that I respect and look up to, see me as the future. I'm proud to be contributing in class as well as in the community and as a black woman, having the opportunity to be recognized for my hard work is truly amazing. I feel incredibly validated in my passion and hard work as an English major at VCU.
When did you know you wanted to pursue an English major?
I think I was in denial at first about what the best career path for me would be, for some reason I thought pursuing English in school was too easy of an option and it couldn't be that simple, but once I realized that it was that simple and nothing could be better than furthering my education in a subject that I already loved and was good at, it just made sense.
Can you tell us a little about your research project as a Distinguished English Major?
My research project is titled, "Can I be Black and Write like This?" An Exploration of Black Joy and Trauma in Literature and a Personal Manifesto. It is a combination of research about how Black experiences of trauma and joy have been written about and how that writing has been used for political or civil rights' purposes. I will be taking a look at Black writing manifestos that involve ideas about how Black people should write about Black people and who they should write for. It will include a personal narrative about my own experience about being a Black reader and writer as well as my own personal manifesto about how I would like to write as a Black creator.
Do you have any advice for other English majors?
I think that English is sometimes viewed as a field with only one possible career path, but that is simply not true. There are many fields that require a strong ability to write well, read critically, and confidently convey your thoughts. There is a lot that can be learned about the world and people through reading and a lot to be learned about yourself through writing. It truly is an amazing doorway through which a lot of understanding and compassion can be found. I think that if anyone is going to be an English major they probably already love reading and/or writing and my advice would be to really lean into your ideas about a text. It may be weird or uncommon and you can enjoy finding the citations needed to make your point or you may find an entire group of scholars validating your opinion about something. That is the beauty of the major in my opinion, anyone can have something important to say.
What do you like to read outside of class?
I mostly enjoy reading science fiction, fantasy, and romance novels, usually a combination of those genres.
What would be your dream course to take in the major?
I really wanted to take a comedy writing course, because I think I'm really funny and I like to laugh at myself. It seemed like something that would be a good time.
What are your future goals?
I'm going to take a bit of a break before going to Graduate school to further my education in English. I also have a few options in terms of career goals. I would love to be a Literary Agent one day. Helping people get their books published and potentially being the first "yes" they hear sounds like a dream. I would also love to be an editor for romance novels because to me that seems like a job that could never get boring and I'm a sucker for a love story. In the very long term, I would love to be an English Professor of some kind one day.