Sophia Lanctot named 2022 Outstanding English Major
May 16, 2022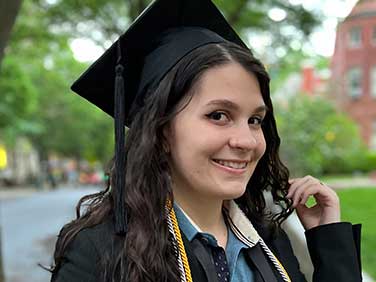 After graduation, Sophia accepted a position on the creative marketing team for Harris Williams, working with both copy and graphic design, the latter of which she plans to pursue further education for in the future. Sophia is a huge fan of Dungeons and Dragons thanks to the pandemic, and she spends her free time playing original campaigns with friends, doing digital illustration, writing queer fantasy, and playing a lot of Zelda: Breath of the Wild. She's a proud member of the LGBTQ+ community, and her favorite animals are bats.
Congratulations to Sophia Lanctot, 2022 Outstanding English Major!
Every semester, the department recognizes a graduating senior as an Outstanding English Major at the May and December ceremonies. Recipients are chosen according to the strength of their GPA, their contributions to the life of the department, and the judgment of the faculty.
Read Sophia's wonderful address to her fellow graduates at this year's commencement ceremony below.
---
Good afternoon graduates, faculty, family, and friends.
My name is Sophia Lanctot, and let me just say how cool it is to get to stand up here and brag about how accomplished you all are. Seriously, I've never met a more intelligent and creative group of people, which is why I'm incredibly honored to be named Outstanding English Major. I also want to thank our faculty, who have been incredibly supportive during our challenges with the pandemic, mental health, and current events, and who have imparted their passion for this subject on all of us. VCU English would be nothing without the people who guide the scholarly interpretations that matter to us and help to make this major our own.
I'd like to talk to you about a piece of literature, if you'll humor me one last time. In my first semester at VCU, and my only one before COVID, we read "Poetry is Not a Luxury" by Audre Lorde.
Now, I know not every English major necessarily likes poetry. If that's you, you'll be relieved to know this piece was actually an essay. More importantly, Lorde described poetry not as a form, but as the act of translating our unique experiences, ideas, and feelings into language that can be shared. This practice is not a luxury, it's essential. The art of writing and language makes us human, and mastering it allows us to understand each other–and to keep moving forward.
To that end, I want to emphasize that Lorde's essay was also about Black women; she argues that their feelings and experiences are as important to radical change as logic and politics–even more so. I find this incredibly relevant to the world we're stepping into, and I urge you to keep it in mind no matter your identity, whether that means speaking up, listening, or both. And you already know how to do it–As English majors, you've transformed, retranslated, and added your perspective to the literary scholarship and history that fought to keep many voices silent. I applaud you and insist that you stay critical, take care of each other, and use your voices–and your word processors.
And don't doubt yourselves. Lorde also said, "There are no new ideas, there are only new ways of making them felt." Yes, sometimes it feels as though everything has already been done, especially if you're a writer. But trust me when I say that anything you add to this world will be new because it arrived through you.
The degree you've just earned is the culmination of not only thousands of pages of literature, but of all the deep thinking, precise argument, creative voice, and passion you've developed here. It's okay if you don't know your next steps or end up changing your mind; you have the ingenuity and resourcefulness to pursue any career and make something valuable out of whatever you do.
When people ask me why I chose to study English, I tell them about how I showed up late to the English Department's open house when I was 16, and it ended up only being me, my mom, and one other student in a room with Dale Smith. If you were lucky enough to have him as your advisor before he retired last year, you already know he would win me over for VCU. I've always remembered how he did it. He said people don't choose to major in English because their parents force them to or because it's the most practical choice; there is nobody in this major who doesn't want to be here. That's where our passion comes from; We don't just love what we do, we believe–we insist–that there is more to success than productivity.
What I'm trying to say is that you'll be okay. Actually, you're going to be amazing. The fact that you're here today at all, after over two years of a global pandemic, means not only that you made it, but that you've exceeded expectations. Just because we had to doesn't make it any less remarkable that we did.
You are some of the most impressive people I've ever studied with, and I enjoyed every minute of it. I mean, if you're going to pick a discussion-heavy major, the other students better be good–and you guys were great. You've inspired me every single day. And as a kid, I know I often felt alone, misunderstood, and way too weird for a lot of people. I think we've all escaped through books at some point in our lives, but I've never felt more at home than I have at VCU with all of you, and I'm sure I'm not the only one who's going to sorely miss this.
But I want you all to know, despite what you may think, you're not old yet. The college experience was always my dream, but it is not the best years of your life. Rest assured, there are plenty of those still to come.
Finally, to my fellow writers, submit your manuscripts and collections. You have everything to gain and nothing to lose. And to all of you, regardless of how you do it, tell your stories and listen to others' voices–they will always be essential.
Congratulations, Class of '22, and thank you for everything.